The Open Plan Luxury Suite welcomes you in an exclusive setting of luxury and charm, recalling the splendours of a noble era, crystallised in the past.
With direct access from the main floor and characterised by their unmistakable style, this suite boasts generous dimensions and plenty of natural light filtering through the high windows.
The brilliant palette in which blue and gold triumph, the fine Venetian terrazzo floor and the original ceiling with beams painted in gold leaf or decorated with precious frescoes combine to create an exclusive mix of comfort and elegance.
Emphasising the strong scenic impact of this suite is the bathroom clad in sultan onyx, which creates striking patterns of colour and transparency.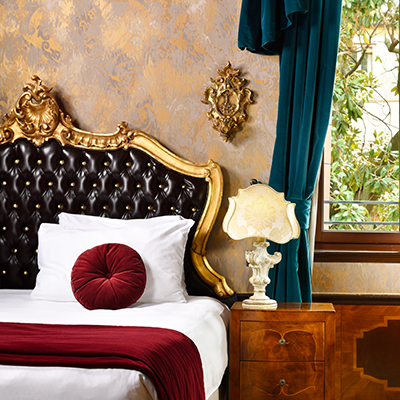 The silk Road
Suite
The exotic style of the refined Suite dedicated to the 'Silk Road' echoes the ancient and deep connection between East and West.