Via Giorgio Zoega, 59 – 00164 Rome
A.Roma Lifestyle Hotel, 4-star hotel in Rome
A fascinating and unexpected view opens up at the end of the avenue leading to the A.Roma Lifestyle Hotel, a magnificent hotel in Rome with swimming pool and a touch of glamour.
Set just outside the metropolitan hustle and bustle, in the heart of the Valle dei Casali, one encounters the tranquillity of an enchanting natural oasis, just a few metres from the historic park of Villa Pamphili and only 15 minutes from the historic city centre and the Vatican City.
From here, the allure of the eternal city is at hand, but can be admired from the totally unprecedented perspective of a modern urban resort that stands out for its refined ambience and impeccable service.
The charm of the A.Roma Lifestyle Hotel – increasingly a place for meeting and discussion – is further enhanced by precious contemporary works of art on display in the hotel's common areas and in the foyer of the conference centre, symbolising the deep connection between East and West and the effective mutual fusion expressed through art, culture and innovation.
The 276 rooms and suites of this prestigious hotel in Rome have been designed interpreting an essential and contemporary aesthetic concept that combines functionality, comfort and understated elegance.
The rooms are spacious, bright, easily modifiable and furnished with taste and rationality.
Neutral and relaxing colours, large windows and furnishings with minimal lines will welcome you in a comfortable environment that, combined with exclusive services, will make every stay in the Eternal City a unique and prestigious experience.
Some rooms enjoy a pleasant view of the hotel park and the outdoor swimming pool, while others offer a breathtaking view of the Valle dei Casali: the "trait d'union" between them all is the extraordinary natural setting that surrounds them, so unusual for an area so close to the centre of Rome.
BEGIN YOUR STAY IN COMFORT: FIND OUT OUR ROOMS
BOOK DIRECTLY ON OUR WEBSITE AND RECEIVE THE FOLLOWING EXCLUSIVE BENEFITS:
Late check out subject to availability

Free upgrade subject to availability upon arrival

For bookings with a minimum stay of three nights, from Executive room to Presidential Suite (excluding Deluxe, Premier and Family), a one-way transfer between Rome Fiumicino airport and the hotel is included
Welcome drink on arrival for guests staying in room types Executive to Presidential Suite (excluding Deluxe and Premier)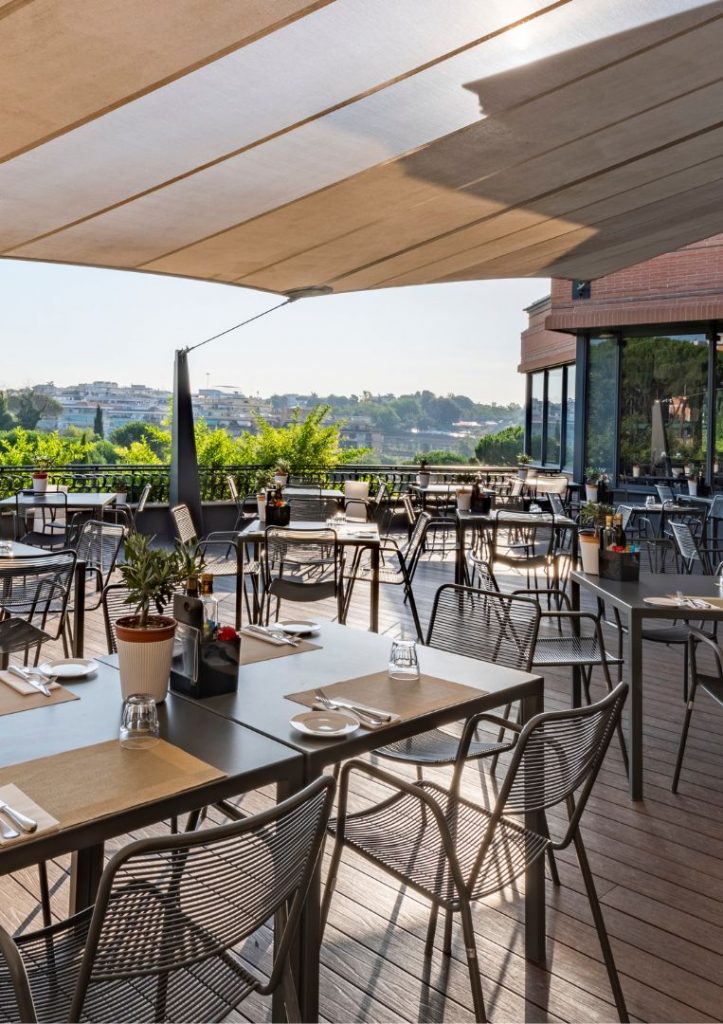 Ristorante
Restaurants
& Bars
Are you looking for an ethnic restaurant in Rome? The A.Roma lifestyle Hotel stands out on the Roman gastronomic scene for its original culinary proposal inspired by the flavours of ethnic and Mediterranean cuisine interpreted with skill and creativity.
In a space characterised by an elegant and essential style, it is possible to choose between different formulas suited to the most demanding palates: from the refined 'Bar Il Giardino' restaurant, which offers a refined à la carte menu and a cosmopolitan atmosphere for a signature aperitif, to the innovative 'Sapori dal mondo' restaurant, which for dinner provides a fresh interpretation of a rich selection of traditional Italian and international specialities served buffet-style.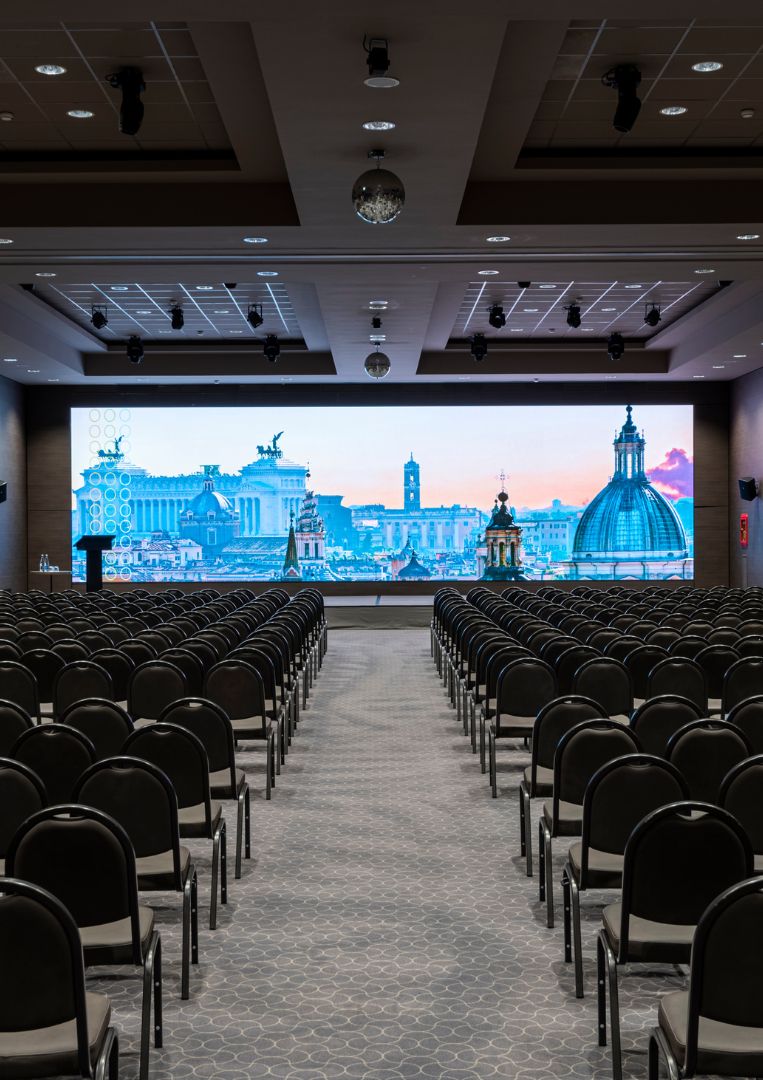 Meetings &
Events
The ideal choice for events, corporate meetings, conferences and congresses in Rome – in presence, hybrid or digital – the A.Roma Lifestyle Hotel boasts innovative and flexible solutions, combined with an excellent service to meet any business need and ensure the realisation of a unique event in an elegant and exclusive setting.
There are numerous options for customising the rooms, catering proposals, and cutting-edge technological equipment that make it possible to realise any type of event, even the most complex, with particular attention to energy impact and environmental sustainability.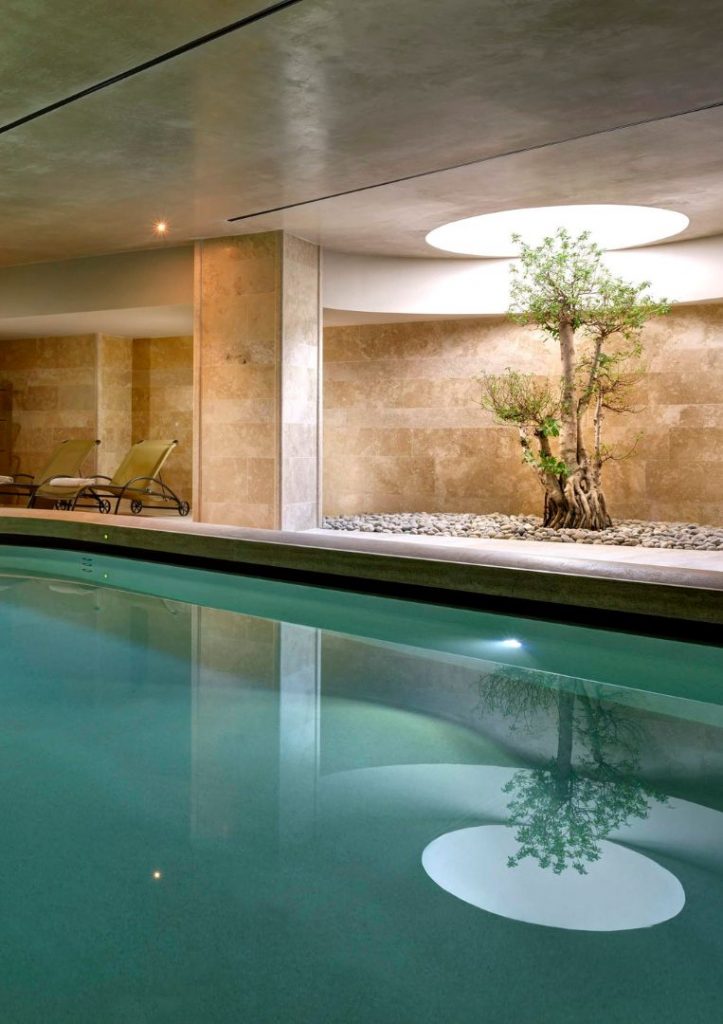 Relaxation &
Sport
The active partnership with the Livia Wellness & SPA enriches any stay dedicated to wellness and relaxation: 3000 square metres of welcoming and refined spaces available within the hotel and entirely inspired by the ancient cult of the Roman Baths.
It is here that tradition and innovation blend perfectly to guide guests along a relaxing holistic path that restores the natural balance between mind and body, ideal for rediscovering harmony, inner serenity and remise-en-forme.
Thanks to the selection of a highly qualified team and the use of certified phytotherapy products that meet the highest quality standards, the SPA offers a service of excellence and proposes a wide range of wellness programmes, customised to the real needs of each client