The perfect location for congresses, corporate events, product launches and team building in Rome, but also an oasis of relaxation after an intense working day, the A.Roma Lifestyle hotel has multifunctional and modular spaces surrounded by greenery, 276 comfortable rooms, 2 restaurants, s rooftop bar available for private events, fitness centre and outdoor swimming pool.
With understated elegance, the Congress Centre presents a dynamic fusion of art, comfort and modern technology and offers innovative and customised solutions for events with a total capacity of over 1100 participants, of which 550 in the plenary room alone.
Infinite possibilities for arrangements, sophisticated settings and a refined wine and culinary proposal make the A.Roma Lifestyle Hotel the ideal choice to satisfy any professional need and assure the success of any type of event.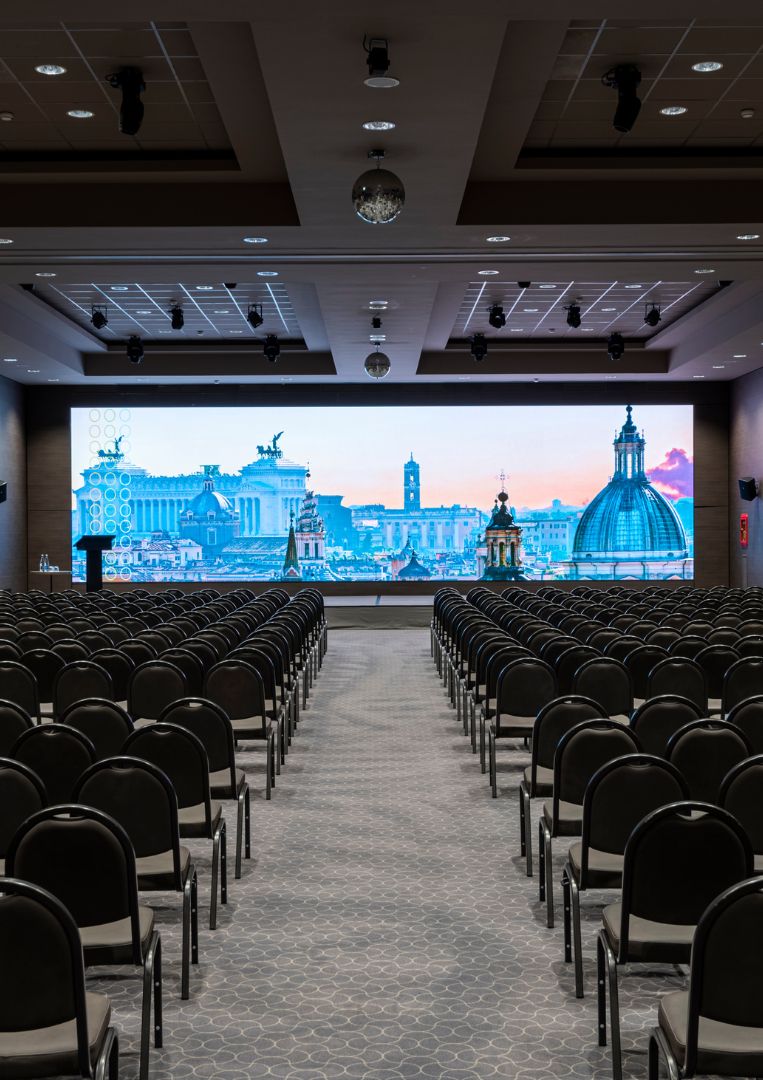 The ideal choice for events, corporate meetings, conferences and congresses in Rome – in presence, hybrid or digital – the A.Roma Lifestyle Hotel boasts innovative and flexible solutions, combined with an excellent service to meet any business need and ensure the realisation of a unique event in an elegant and exclusive setting.
There are numerous options for customising the rooms, catering proposals, and cutting-edge technological equipment that make it possible to realise any type of event, even the most complex, with particular attention to energy impact and environmental sustainability.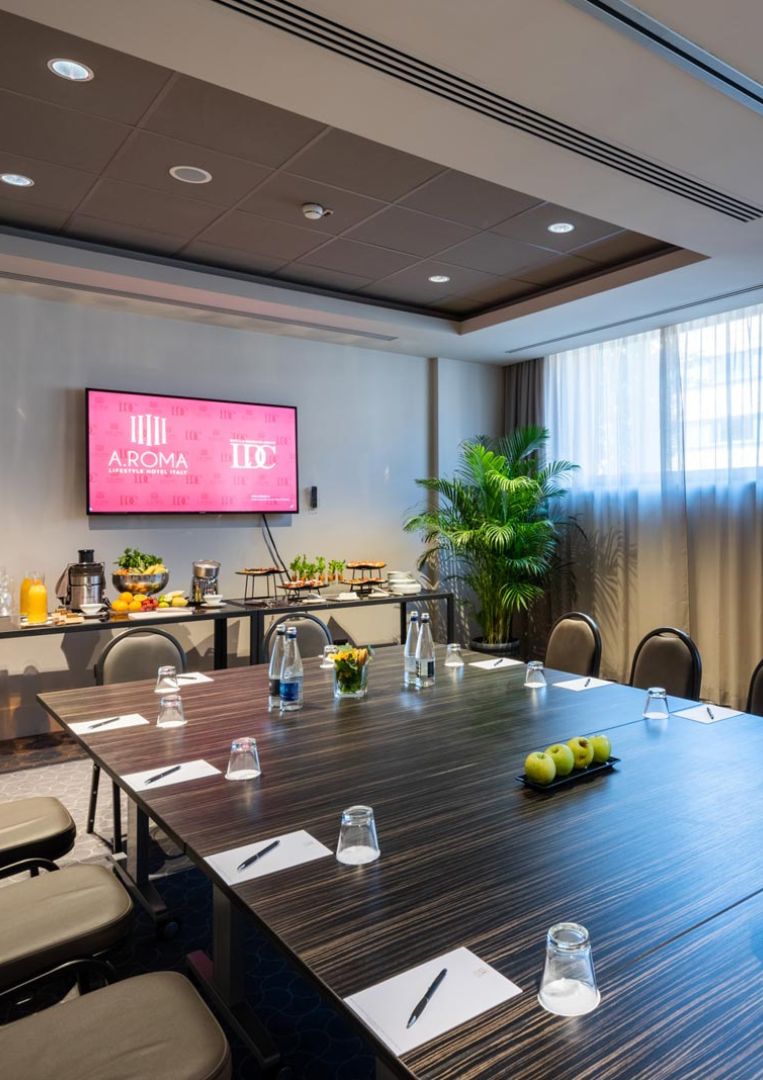 Our meeting
rooms
Consisting of 19 meeting rooms, 12 of which with natural light and all equipped with fast Wi-Fi connection and state-of-the-art audio-visual equipment, the Meeting Centre offers the largest ledwall in Italy (4m x 12m) – the only one of its kind – 2 additional large ledwalls (2.8m x 5m) in the plenary rooms and 19 screens installed in all the rooms, which can be coordinated through an advanced integrated domotics system.
Also available on request is the latest set-up of the Bacco-Terra hall, converted into a real control room equipped with "conference system" technology, interactive digital platform and dedicated functions for hybrid or streaming events.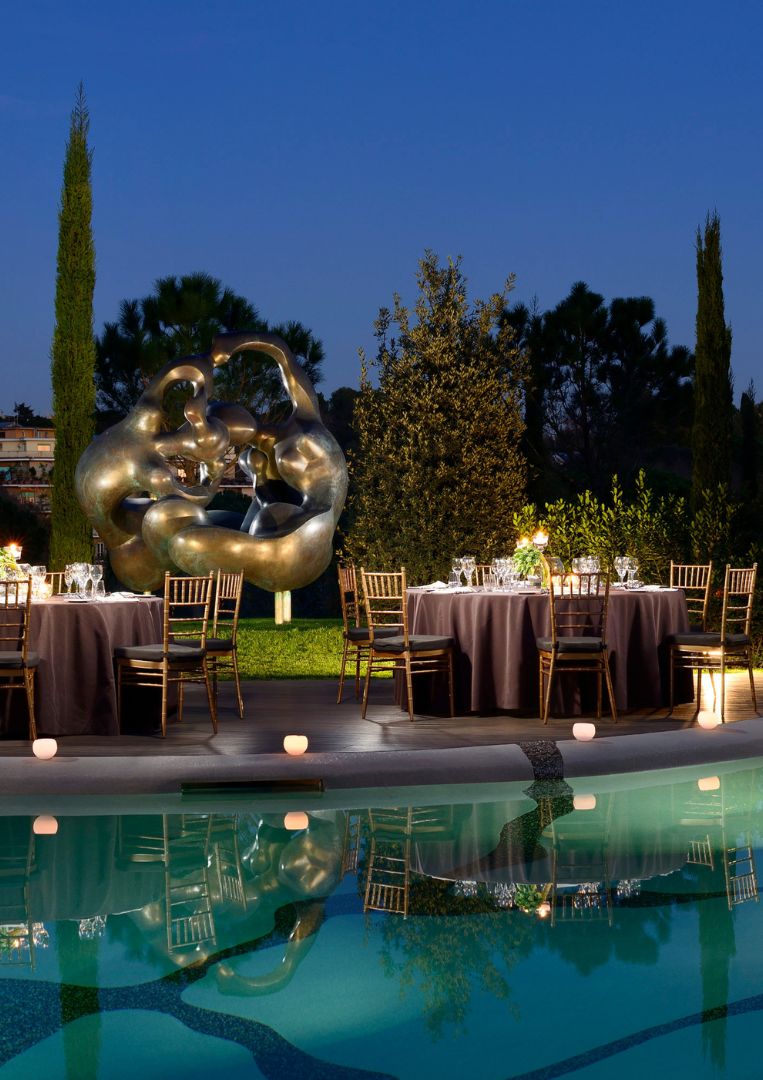 Weddings
The A.Roma Lifestyle Hotel is the ideal setting for your wedding in Rome: from the panoramic terrace overlooking the park to the evocative swimming pool illuminated by plays of light at sunset, perfect for setting up an outdoor reception in fine weather.
Immersed in the hotel park, the outdoor swimming pool is designed like a natural pond, whose shallow turquoise waters flow gently towards the sandy bottom, creating a sensational backdrop.
The refined and elegant interior is embellished with contemporary works of art and designer furnishings, making this wonderful location the perfect choice for an unforgettable wedding.
There are many possibilities for customisation and set-up, from the most sober options for a few close relatives and friends to celebrations with many guests, including symbolic ceremonies in the 'Terrace of Flavours' and evening events that create original and spectacular settings.
A refined and customisable culinary proposal, inspired by the flavours of Italian tradition and the exotic aromas of international cuisine, enriches the offer of excellent services reserved for newlyweds and their guests.